Design your own exhaust system. From a simple and stylish single tailpipe to a classy quad exit or even a flamboyant octet! The choice is entirely yours. Also choose your own sound! A mild, mid sport or full sport sound, all for the same price, whichever you decide. We cater for the family car with a quiet hum, to the full on racer! Click the button below to listen to some sounds to help you choose.
We stock a massive range of tailpipes to cater for all types of system. If you have a special, or out of the ordinary request, which we do not stock, we can arrange for it to be with us within 2 days! Click the button below to view a selection of our tailpipes.
---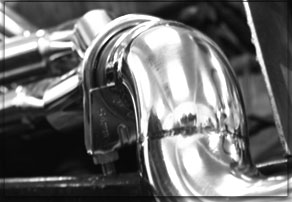 We are specialists in designing Stainless Steel Exhaust systems around your vehicle. Made from T304 Stainless Steel, each part is manufactured by hand on site.
We incorporate a variety of tailpipes in every shape, size or image to suit your specification. This is the most visible part of the exhaust and one of the main reasons people desire our personally crafted product.
Designing a system to meet your needs from a process of consultation and problem solving, to grafting a product from a drawing or conceptual idea and creating the life size, fully functioning exhaust. Our expertise and flexibility allows us to "make the difference" and personally guarantee every system for the life of your vehicle.
---

We also undertake repairs to exhaust systems & flexi pipes. Please call or e-mail us with your problem!